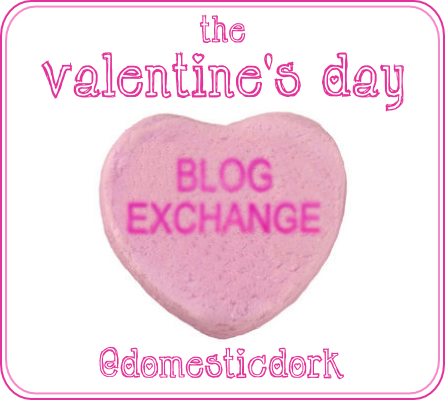 Today I'm bringing you the final recipe for cookies I included in my Valentine's Day Exchange package. The event was hosted by Holly Noelle of Domestic Dork. I had so much fun selecting, baking, and packaging recipes for my bloggy exchange partner, Liza of The Smiths. This was my first but certainly not my last blog exchange :)
Aside from the standard box of chocolates, no candy signals the start of the Valentine's Day shopping season better than Conversation Hearts--those tiny multicolored hearts with messages on them. Love 'em or hate 'em, you can't deny they're pretty much the ultimate in Valentine-ness. I recreated them in cookie form with sugar cookies, glaze, and Wilton® Food Writer pens. My penmanship with a decorating bag is poor at best, so these pens were a lifesaver! :) This was certainly not my original idea, but they were simple and too cute not to try. I'm very pleased with the results, so these cookies will definitely make it into my rotation!
I'm also entering this recipe in the All Through the Year Cheer: Valentine's Day event, hosted by Brandy of Nutmeg Nanny. The full round-up and winner will be posted on Valentine's Day, so be sure to check out the All Through the Year Cheer site. If you're interested in joining in on the fun, it's not too late--recipe submissions will be accepted until 9 pm EST on February 13th (tomorrow!).
White Chocolate Almond Sugar Cookies
From Karen's Cookies
2¼ cup all-purpose flour
1 tsp. baking powder
¼ tsp. salt
½ cup butter, softened
⅓

cup sugar
1 egg
1 tsp. vanilla extract
½ tsp. almond extract
6 oz. white chocolate
Preheat oven to 350°F. In small saucepan over low heat, melt the white chocolate and set aside. In small bowl, whisk together the flour, baking powder and salt (so they're well combined) and set aside.
In large mixer bowl beat butter and sugar until creamy. Blend in egg and vanilla extract. Beat in melted white chocolate. Gradually beat in flour mixture until soft dough formss. Shape dough in ball; flatten to ¾" thickness. Wrap in plastic wrap; refrigerate 15 minutes* until firm.
On lightly floured surface, roll out dough to desired thickness (I roll ¼" thick). Bake until edges are golden (8-12 minutes--depending on size and thickness). Let stand 2 minutes. Remove from cookie sheets and cool completely.
*Note: You MUST be able to roll and cut the dough after the 15 minute refrigeration time, or it will set up too much and won't roll out well. This dough is a dream to work with. You'll love it.
Cookie Glaze
2 cups powdered sugar, sifted
2 Tbl. almond milk
½ tsp. vanilla extract
¼ tsp. almond extract
2 Tbl. corn syrup
Food coloring, as desired
Combine powdered sugar and almond milk in a bowl, stirring until smooth. Blend in extracts, then stir in corn syrup. Divide glaze among small bowls to add coloring. Cover bowls and allow to sit for about 15 minutes for bubbles to rise to the surface. Before using glaze, gently stir out bubbles. Spread over cookies with an offset spatula. Glaze will dry to a firm, stackable finish.