Grilled cheese sandwiches with tomato soup were a staple for me during Lent this year, but honestly I could eat them almost every day if I had a chance to. Hubby prefers his pressed in a George Foreman®-type grill, I like mine on the skillet, but we both prefer them straight up--good ole' American cheese between two pieces of squishy white sandwich bread...no recipe needed. For this month's Crazy Cooking Challenge, the grilled cheese sandwich theme forced me to move outside my comfort zone and explore other ways to make it.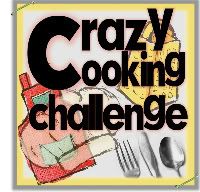 I had bookmarked a recipe for Jalapeño Popper Grilled Cheese a while back on the blog Closet Cooking, but never got a chance to make it until now. It was delicious! We both enjoyed our sandwiches, and my only regret is that I only bought enough peppers to make one sandwich a piece for us. Sure, it took longer to prepare than a "regular" grilled cheese sandwich, but if you have the time (or the craving for jalapeño poppers) it is well worth it. Visit Kevin at Closet Cooking to view the original recipe and tips for making the perfect grilled cheese sandwich, and while you're there be sure to check out the rest of his blog. He has a whole category for grilled cheese!
Jalapeño Popper Grilled Cheese
by Kevin of Closet Cooking
2 jalapeño peppers, cut in half lengthwise and seeded
2 slices sourdough bread
1 tablespoon butter, room temperature
2 tablespoons cream cheese, room temperature
1/2 cup jack and cheddar cheese, shredded
1 tablespoon tortilla chips, crumbled
Directions
Place the peppers on a baking sheet with the cut side facing down.
Place the baking sheet on the top shelf in the oven and broil until the outer layer of the skin has blackened, about 8-14 minutes.
Place the peppers in a zip-lock bag or other sealable container, seal and let them cool until you can handle them, about 20 minutes.
Remove the skins from the peppers. The skins should easily "pinch" off.
Butter the outside of each slice of bread and spread the cream cheese on the inside. Sprinkle half of the cheese on the cream cheese of one slice of bread, top with the jalapenos, crumbled tortilla chips, the remaining cheese and finally the other slice of bread.
Heat a non-stick pan over medium heat.
Add the sandwich and grill until golden brown and the cheese has melted, about 2-4 minutes per side.
Don't forget to stop by the other entries for this month's challenge!