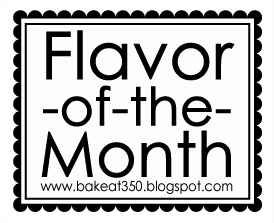 Since I had such a difficult time deciding what to make for July's Flavor-of-the-Month: Pie event hosted by Bridget of Bake at 350, I decided to make two pies. Funny thing is, both of my items are decidedly un-pie like in nature...but just as delicious. Visit Bake at 350 to check out all the yummy pie-goodness from the other participants (at bottom of the peach pie post)!
First up: Whoopie Pies
Find the recipe
here
on the King Arthur Flour website. If you can't find Dutch-processed cocoa at a decent price, I've found that Hershey's Special Dark® cocoa is a decent substitute. Marshmallow Fluff®, if you can find it, is worth seeking out as well. I followed the mini-pie variation, and ended up making 20 pies instead of 16. Don't worry though, these whoopies were plenty big!
And let's not forget the
Boston Cream

(Creme? Cream?)

Pie:
Boston Cream Pie
Sponge Cake (Make TWO of these!) adapted from BHG
2 eggs, room temperature
1 cup all-purpose flour
1 tsp. baking powder
1 cup sugar
½ cup milk
2 Tbl. butter
1 tsp. vanilla extract


Cream Filling
1 pkg. (4-serving size) French Vanilla instant pudding mix
1 cup milk
¾ cup heavy cream


Chocolate Ganache
6 oz. semi-sweet chocolate chips
¾ cup heavy cream
Preheat oven to 350°F. Grease a 10x2" round pan (or 9x9x2" square). Stir flour and baking powder together in a bowl and set aside.


In a separate bowl, beat eggs on high speed until thick, about 4 minutes. Slowly add in sugar, beating on medium for 4-5 minutes or until light and fluffy. Add vanilla extract and flour mixture, beating on low speed just until combined.


Heat milk and butter together until butter is melted. Add to batter and beat to combine. Pour into greased pan and bake immediately at 350°F for 20-25 minutes, or until done. Cake layer will be thin. Leave in pan to cool.


Remove cake from pan once cooled, and prepare a second cake layer. While cakes are cooling, prepare chocolate ganache.


Make ganache: Place chocolate chips into a medium bowl or large (3-cup) measuring cup. Heat cream to simmering point, then pour over chocolate chips. Do not stir. Let sit for 5 minutes, then stir slowly to incorporate. Set aside to cool, until slightly thickened but still pourable.


Make filling: Whip ¾ cup cream by hand until stiff peaks form. Set aside. In separate bowl, combine pudding mix and milk. Beat/whisk for 2 minutes to thicken. Fold in whipped cream.


Assemble cake: Place one sponge cake layer on serving plate. Spread with cream filling. Top with second cake layer. Pour ganache over cake, letting excess drip down sides. Use an offset spatula to spread ganache around sides of cake.


Chill to set ganache before serving. Store in refrigerator.