It's that time again! This month's Crazy Cooking Challenge theme is...CHEESECAKE! The rules have changed for this month's challenge, so recipes we select no longer have to come from a blog. Recipes can come from anywhere, so the possibilities are nearly endless. I selected Cookies and Cream Mini Cheesecakes from the May 2007 issue of First for Women magazine. They were delicious! Like many cheesecakes, these freeze really well. We stashed most of the batch in the freezer and popped them out to defrost while we had supper. You won't be disappointed with this recipe. Be sure to visit the other challenge participants for more yummy cheesecake recipes!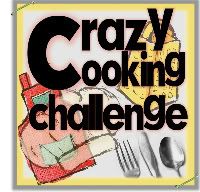 10 chocolate sandwich cookies, ground
16 oz. cream cheese, softened
8 chocolate sandwich cookies, chopped
Heat oven to 325°F. In bowl, combine ground chocolate sandwich cookies with sugar and melted butter. Divide mixture evenly among 12 paper-lined muffin cups; press to form crusts.
In bowl of electric mixer, beat cream cheese and sugar for 2 minutes. Add 2 eggs, 1 at a time, beating after each. Stir in 8 chocolate sandwich cookies, chopped, and vanilla extract. Divide cream cheese mixture evenly among prepared muffin cups.
Bake 20 minutes, or until center is almost set. Cool completely and chill before serving.