First of all, I'd like to wish everyone a joyous and blessed Easter! This post is going live on Holy Saturday, but of course I had it written well before that. By now I've welcomed my sweet baby girl into the world (due date was 2 weeks ago), so naturally I'll have my hands full for a while as we adjust to parenthood. Be back soon with some updates and baby pictures!
I was super excited to make my entry for this month's Crazy Cooking Challenge. Tina, our hostess over at Moms Crazy Cooking, chose "Blueberry Muffins" as the theme for April. (To find out more about the challenge click HERE) Blueberries are one of my favorite fruits and always have been. We have four varieties planted in our backyard right now, but of course it is too early in the season to harvest any decent berries (though with the crazy weather we've had this winter there are already a few berries on the bush). Here's hoping that this year's berries will be tasty, because last year they were pretty sour!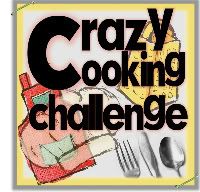 Anyway, back to the blueberry muffins... I found the recipe for "Cake Mix Blueberry Muffins" on the What's Cookin' Italian Style Cuisine Blog, which is full of some really tasty looking photos and recipes! Be sure to check out the blog before you start your meal planning for the week. The only changes I made to the recipe were to increase the amount of blueberries to 2 cups (we like blueberries!) and bake the muffins in a jumbo muffin pan instead of a standard muffin pan (bigger is better!).
Cake Mix Blueberry Muffins
Adapted from Pegasuslegend of
What's Cookin' Italian Style Cuisine
Yield: 10 jumbo muffins
2 cups fresh blueberries
18.25 oz. box white cake mix (I used Duncan Hines®)
3 oz. box instant vanilla pudding
4 eggs
1/2 cup oil
3/4 cup milk
1 tsp. vanilla or almond extract
Preheat oven to 350°F. Place paper liners in a jumbo muffin pan(s).
Toss blueberries with 1 Tablespoon of cake mix; set aside. Place remaining cake mix, instant pudding mix, eggs, oil, milk, and vanilla in a mixer bowl. Beat on medium speed for 2 minutes or until smooth and fluffy, scraping sides of bowl as needed. Fold in blueberries. Portion into jumbo muffin cups, using about 2/3 cup batter in each cup. Bake at 350°F for about 25 minutes, or until golden brown and muffins test done.
Check out all the other blueberry muffin entries in this month's Crazy Cooking Challenge! Be sure to click on my entry below :)