The "Spaghetti" theme for this month's Crazy Cooking Challenge really had me excited because spaghetti night is fairly common in our house. What's not to like about a spaghetti dinner, right? It's quick, easy, budget-friendly, and a general crowd-pleaser. Around here we're perfectly content with throwing some cooked ground beef into a jar of sauce and calling it a day, but in keeping with the spirit of the "challenge" part of the Crazy Cooking Challenge I decided to look for a from-scratch sauce recipe. I knew from the get-go that I wanted to look for a spaghetti and meatballs recipe, as opposed to our usual meat sauce. Meatballs are a treat indeed!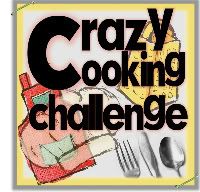 At first I had my heart set on Spaghetti and Meatballs All'Amatriciana from Bon Appétit. Packed with bacon and red pepper flakes, it was just begging for me to make it. Most of the bloggers who tried the recipe really enjoyed it, aside from the generous amounts of crushed red pepper. In the end though, laziness won out for me...after all, I will be having a baby in 2 1/2 weeks! I found a recipe that uses the slow cooker AND doesn't require me to make my own meatballs: Slow Cooker Spaghetti by Lizzy of The Lizzy Pad. As an added bonus, it contains pepperoni!
Recipe Notes:
Unless you have a mega capacity slow cooker (7 quarts), I highly recommend cutting the recipe in half. Or if you're lucky enough to own more than one slow cooker, divide the recipe between two of them and cook them both at once. I used a 6 quart slow cooker, and it was filled to the brim. By the time the sauce got up to a nice simmer it was starting to bubble out from underneath the lid and I had to let it cook with the lid off for a while.

This recipe takes a while to cook (10 hours!), so plan accordingly. See if you can set up your slow cooker on a table in the garage like we did. Spaghetti smells amazing while cooking, but not when it lingers for an eternity after your meal. Don't know about you, but I can't sleep when I can still smell food :)

Lizzy uses both crushed tomatoes and diced tomatoes, then purees the sauce for the smoother texture her children prefer. I skipped this step, but next time I make this I will probably skip the diced tomatoes and use all crushed tomatoes.
Slow Cooker Spaghetti Sauce
2 lbs. cooked meatballs, thawed if frozen
1 lb. pepperoni, cut into chunks
2 cans (28 oz. each) diced tomatoes, undrained
2 cans (28 oz. each) crushed tomatoes
1 can (12 oz.) tomato paste
1 tsp. crushed red pepper flakes
8 oz. can mushroom pieces, drained
Heat olive oil in a large skillet. Add onions, bell pepper, and garlic. Sauté vegetables over medium-high heat until tender and golden, stirring frequently. Transfer to slow cooker.
Brown meatballs in skillet, then transfer to slow cooker. Add remaining 8 ingredients to slow cooker and stir gently to combine. (Don't smash those meatballs!) Cover and cook on LOW for 4 hours.
After sauce has cooked for 4 hours, skim off any fat that has accumulated from the meatballs and pepperoni. Stir sauce and check for seasoning, adding salt and pepper if needed. Add crushed red pepper flakes if using. Continue cooking for another 6 hours on LOW, stirring in mushroom pieces during the final hour (if using). Skim fat again if needed. Let cool slightly and serve over cooked spaghetti.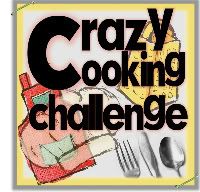 Hungry for more?
Be sure to check out all the other entries in this month's Crazy Cooking Challenge!
Don't forget to click on my entry in the Linky party below :)