I came across the
Crazy Cooking Challenge
group during my Interweb travels last month, and since February's theme was "Chocolate Cake" I decided it would be a mighty fine time to join in on the fun! The Crazy Cooking Challenge is headed up by Tina over at
Moms Crazy Cooking
. The premise is simple: every month a theme recipe is selected, and everyone who wants to participate must scour the web looking for a version of that recipe to make. The catch: the recipe must be new to the blogger and must come from another blog...but NOT from a famous person's blog (i.e., Pioneer Woman, Paula Deen, etc.). Then everyone sets their posts to publish at the same time on the same day! Pretty neat, huh? The goal of the Crazy Cooking Challenge is sharing--hopefully getting others to visit the blog you got the recipe from as well as your blog. What a fun way to get new visitors! For more info on how it works or to join up for next month, please visit Moms Crazy Cooking
HERE
.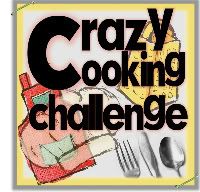 Alright..now on to the cake!
This recipe comes from the lovely Amanda of
Kevin & Amanda
. It's got lots of rave reviews, and for good reason. This is one tasty cake--the perfect partner for that tall glass of cold milk! When you go visit Amanda's blog, be sure to check out her main page as well as the recipes section. As of this writing, it seems that the "Recipes" section is not getting updated regularly, but Amanda is still posting recipes within the main page of her blog. While you're there be sure to check out her Free Fonts page!
Recipe Notes:
My cake isn't as photogenic as Amanda's or others I've seen online. I think I over beat my cake batter. The recipe doesn't really state how long to mix the batter, so I followed the instructions on the box (30 seconds on low followed by 2 minutes on medium). This probably lightened the batter too much, causing its structure to collapse upon cooling. Underbaking was not the culprit here; the cake was clearly "done" when removed from the oven. We didn't mind the denser texture though--we just called it brownie cake!

You can make the frosting with butter instead of shortening if you wish, but Amanda says she's tried it with all butter and half butter/half shortening...and still prefers the version made with all shortening!
The Best Chocolate Cake Ever
Recipe by Amanda, found
HERE
1 box (18.25 oz) Devil's Food Cake Mix
1 box (3.3 oz) instant chocolate pudding mix
1 cup sour cream
1 cup vegetable oil
4 eggs, beaten
1/2 cup milk
1 tsp. vanilla
2 cups (12 oz. pkg) mini chocolate chips
Preheat oven to 350°F. Grease and flour two 9" round cake pans or coat with nonstick spray. In a large mixing bowl, combine all ingredients except chocolate chips. Batter will be thick. Stir in chocolate chips. Divide batter between cake pans and spread in an even layer. Bake at 350°F for approximately 45 minutes. Cool completely before frosting with buttercream frosting (recipe follows).
Buttercream Frosting
Recipe by Amanda, found
HERE
1 cup Crisco® shortening
4 cups powdered sugar
1/4 tsp. salt
1 tsp. vanilla extract
1/3 cup heavy cream
In a mixing bowl, cream shortening until fluffy. Add sugar and continue creaming until well blended. Add salt, vanilla, and whipping cream. Blend on low speed until moistened. Beat at high speed until frosting is fluffy.
Hungry for more? Be sure to check out all the other entries in this month's Crazy Cooking Challenge! You're sure to find that perfect chocolate cake recipe to make for your sweetie this Valentine's Day!